Vertical plate Freezers with secondary refrigerant
Project: Vertical plate Freezers with secondary refrigerant for a fishing company
Custom: DGM Shipping – Briis (Estonia)
Year: 2020 – 2021
After the Estonian DGM Shipping (Briis), engaged in fishing and fish processing, contacted Tucal to quote a vertical plate freezer for a direct expansion system, our engineers recommended a solution using a secondary refrigerant, aiming to simplify the installation and defrost only with one unit.
This solution brought many advantages, such as the simplicity of the refrigeration equipment, more security (in the defrost and also thanks to the lower refrigerant volume), as well as the short time required to freeze and defrost, all of this with the same efficiency as a traditional system with pumped Freon or ammonia. Briis proved to be very satisfied with the installation of the first unit and soon purchased a second vertical plate freezer.
"An excellent solution is the use of a heat exchanger to refrigerate Temper. Freezing occurs quickly and defrost takes only 3-5 minutes! This method also significantly reduces the volume of the main refrigerant (Freon, ammonia or CO2). We have been able to install one single freezer very easily and, due to the more intense heat exchange, the freezing in all the stations is more even and oil does not accumulate in the lower part of plates. The use of an intermediate heating medium makes working with freezers safer, since the pressure in the system is very low (less than 2 bar), any leak can be easily detected and it does not pose any danger to personnel or to the finished product.
The freezer is well designed; everything is made of stainless steel, with only the exception of the gearbox of the hydraulic station. In general, there is good access for washing, which is extremely important in conditions of stricter sanitary requirements. Conveniently, we could also order a variant with both the right and left positioning of the hydraulic station to better adapt to the space we had assigned for the freezers."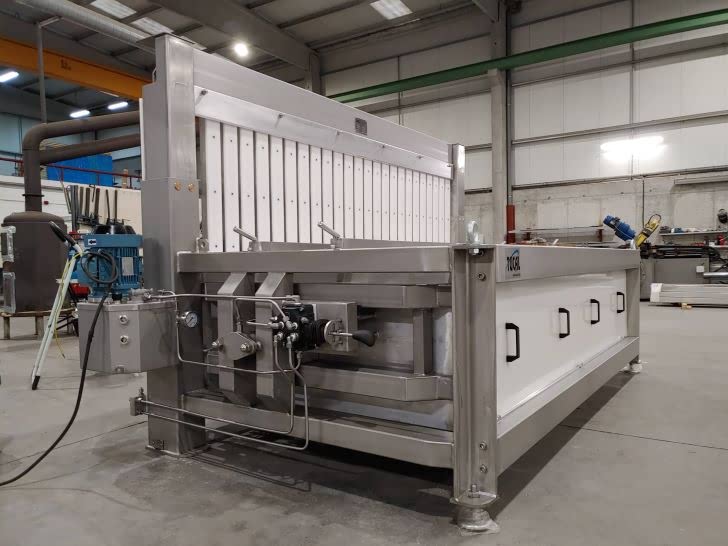 Soluciones de congelación diseñadas para optimizar la producción